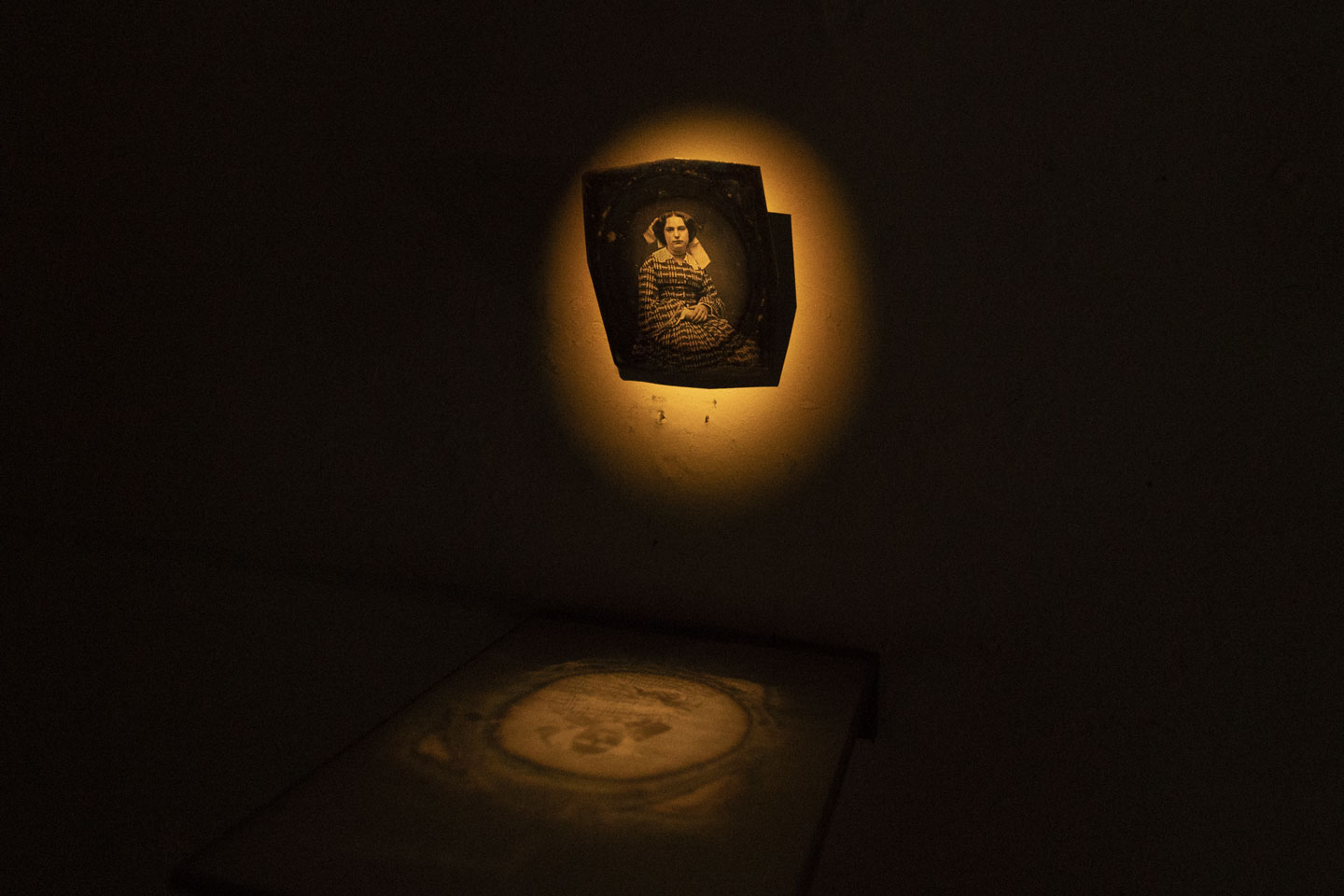 本作は1840-60年代と推定されるダゲレオタイプの原板を中心とした点光源システムと、ダゲレオから反射した影像を捉えるキャプチャーシステムからなる。

This work consists of a point light source system centered on a daguerreotype master plate presumed to have been made in the 1840s-60s, and a capture system that captures the shadow image reflected from the daguerreotype.

ダゲレオタイプはかつて「印影鏡」などと呼ばれ、「影」や「鏡」と表現された。銀板のダゲレオを肉眼で初めて見た時の印象は、鏡と形容する感覚そのものだ。ダゲレオタイプを現実のキャプチャーとする以上に、その制度の透明部分である鏡としての質感が際立つように見えるのは、これが"かつて写真だった"ものであるからだろう。

The daguerreotypes imported to Japan were once called "In-ei-kagami" (mirror), and were described as "kage" or "mirror". The first time I saw a silver plate daguerreotype with the naked eye, it seemed to me to be the very sensation of describing it as a mirror. More than the capture of reality, the daguerreotype seems to stand out more as a mirror, the transparent part of the system, because this is because this is "what was once a photograph".

銀板に感光した部分が影となり、それ以外は光となって反射する。そんな物的な質を持ったダゲレオに点光を照射すると、観光部分の階調が影として投影される。それをカメラでキャプチャーして色調を反転した時、ネガフィルムのように人物のイメージが正転する。ダゲレオの影を反転する、つまりかつてそこにあった、光のゴーストが電子イメージの中だけに復元されている。

The shadows on the silver plate become shadows, while the rest of the image is reflected as light. If you irradiate a daguerreo that has such a physical quality, the gradations of the tourist areas are projected as shadows. When you capture it with a camera and invert the color tone, the image of the person is reversed like a negative film. The shadow of the daguerreo is reversed, that is, the ghost of light that was once there, is restored only in the electronic image.