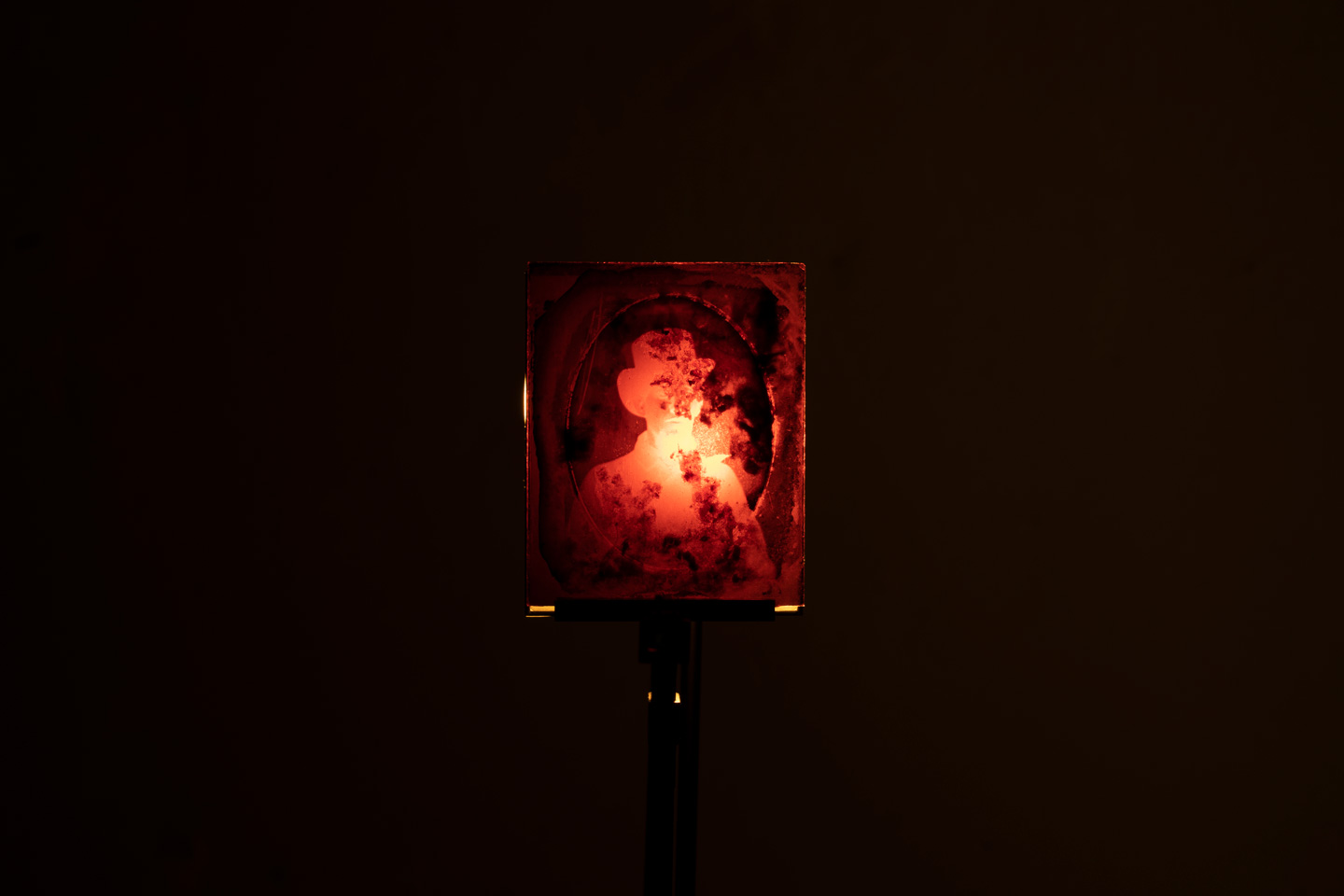 本作は向かい合わせの点光源システムと、その中心にあるアンブロタイプ(1850-80年代)の原板で構成されている。向かい合わせの点光源は光の強度を交互に変化させ、アンブロタイプのイメージと物質の中間的なテクスチャを抽出する構造を持つ。

This work consists of a system of facing point light sources and an ambrotype (1850s-80s) base plate at the center of the system. The structure of the opposing point light source alternates the intensity of the light and extracts an intermediate texture between the ambrotype image and the material.

アンブロタイプは無色/有色透明な支持体の上にイメージが感光されている。銀板にイメージが定着しているダゲレオと比べた時、感光剤がガラスにかろうじて乗っている薄い皮膜のような印象をうける。光が当たらなかった部分はガラス質の基材そのものであり、後ろから光を当てれば表面のコーティングされた図像を覆うようにガラスの素材と質感が強調される。

In the ambrotype, the image is exposed to light on a colorless/transparent support. Compared to the daguerreotype, in which the image is fixed to a silver plate, it gives the impression of a thin film of light-sensitive agent barely covering the glass. In this exhibition, the part that was not illuminated is the glassy substrate itself, while the material and texture of the glass is accentuated when illuminated from behind, covering the coated iconography on the surface.

アンブロタイプの前後に設置された点光源の光量のバランスを変化させると、薄い表皮にあるイメージと、イメージを定着させた構造がもつ質感が等価に現れる瞬間がある。アンブロタイプが虚と実の皮膜そのものになり、その中間性はすべてのイメージの成立と不可分な要素である。

By changing the balance of the light intensity of the point light sources placed in front of and behind the ambrotype, there is a moment when the image in the thin skin and the texture of the structure in which the image is anchored become equivalent. The ambrotype becomes the very Membrane of the imaginary and the real, and this intermediacy is an element that is inseparable from the formation of all images.